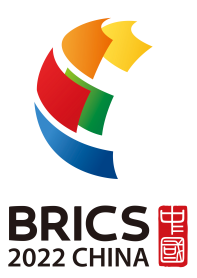 I.Theme of the 2022 BRICS Summit
Today, the world is undergoing momentous changes compounded by a pandemic unseen in a century. The global governance system and international landscape are evolving at an accelerated pace and the world economic recovery is fragile with widening gaps between the North and the South. As major emerging markets and developing countries, BRICS countries shoulder the historical mission of increasing the well-being of their peoples and promoting world peace and development.
The Chinese side is ready to work with all BRICS partners to take stock of the BRICS cooperation, build consensus and draw up a blueprint under the theme Foster High-quality BRICS Partnership, Usher in a New Era for Global Development. To foster high-quality BRICS partnership, concrete efforts need to be made in the following four areas: First, we should consolidate the three-wheel-driven cooperation covering economic, political and people-to-people exchanges, aiming for broader and deeper BRICS cooperation. Second, we should enhance political mutual trust and intensify communication and coordination on major international and regional issues to jointly meet common challenges faced by mankind. Third, we need to deepen practical cooperation in all fields, fully deliver on the outcomes of the previous Summits and ensure that concrete results are achieved. Fourth, we should actively carry out dialogue and cooperation with other emerging markets and developing countries as well as international organizations to broaden South-South cooperation for common development and prosperity.
To usher in a new era for global development, we need to focus on the following three aspects: First, we should promote multilateralism, strengthen macroeconomic policy coordination, work together to foster an open and innovative world economy, maintain steady and unimpeded industrial and supply chains, and boost world economic recovery, with a view to achieving stronger global development. Second, we need to actively build a green, low-carbon and circular economy, and stay fully committed to the full implementation of Paris Agreement based on the principle of 'Common But Differentiated Responsibilities', with a view to achieving greener global development. Third, we should work together to fight COVID-19 in solidarity, enhance cooperation on vaccines research, production and mutual recognition of standards, boost equitable and reasonable distribution of vaccines, and strengthen public health cooperation, with a view to achieving healthier global development.
China believes that, by fostering more comprehensive, closer, more practical and inclusive high-quality partnership, BRICS countries will help usher in a new era for stronger, greener and healthier global development while pursuing our own development. China will maintain close coordination and cooperation with all the other members during the 2022 BRICS Chairship and in preparation for the 14th BRICS Summit in particular to ensure its success and write a new chapter for BRICS cooperation.
II.Cooperation Priorities in 2022
Promote Multilateralism
Enhance Political and Security Cooperation
BRICS countries should further consolidate strategic partnership and continue to fully leverage mechanisms such as the Meeting of Ministers of Foreign Affairs/International Relations, the Meeting of National Security Advisers, and the meeting mechanism for BRICS permanent representatives to multilateral institutions, enhance coordination on major global and regional issues and deepen cooperation on counter terrorism, outer space, anti-drug, security in the use of ICTs, anti-corruption, anti-money laundering, countering the financing of terrorism, counter transnational crimes and so on.
Safeguard Fairness and Justice in International Affairs
It is important for BRICS countries to better coordinate our position within the United Nations and other multilateral frameworks, safeguard the UN-centered international system, and uphold the international order underpinned by international law and the basic norms of international relations based on the purposes and principles of the UN Charter.
Improve Global Economic Governance
It is imperative for BRICS countries to strengthen coordination within the frameworks of the G20, WTO, World Bank and IMF, make joint efforts to improve global economic governance system and rules, uphold the multilateral trading system with the WTO at its core, and promote the WTO reform in the right direction. BRICS countries should continue to push for the scheduled conclusion of the 16th General Quota Review of the International Monetary Fund to buttress the global financial safety net.
Work in Solidarity to Combat COVID-19
Strengthen Cooperation against COVID-19
BRICS countries need to strengthen cooperation on testing methods, therapeutic and the research, production and recognition of vaccines, facilitate an early launch of the BRICS Vaccine R&D Center in virtual format and host a seminar on vaccines cooperation in due course. We should work with the rest of the international community to uphold science-based approach for tracing COVID-19 origins and oppose politicization and stigmatization. We should translate the consensus that vaccines are a global public good into concrete actions, ensure their fair and equitable distribution as well as their accessibility and affordability in developing countries, and thus work together to close the immunization gap.
Strengthen Public Health Cooperation
BRICS countries need to harness relevant mechanisms, such as Health Ministers' Meeting and TB Research Network, and cooperate on policy dialogue, experience sharing and personnel training in the field of public health. Accelerate the establishment of BRICS Integrated Early Warning System for preventing mass infectious diseases risks and implement the Memorandum of Understanding on Cooperation in the field of Regulation of Medical Products for Human Use, and strengthen cooperation in traditional medicine and digital health to better prevent and respond to future crises.
Improve Global Health Governance
BRICS countries should render our full support for the central coordinating role of the United Nations and the World Health Organization and improve the global disease prevention and control system in order to maintain global public health security. Under the framework of the UN and WHO, BRICS should support the improvement of global health governance, with the universal participation of all member states and on the basis of consensus, with a view to supporting developing countries in enhancing the capacity of public health services.
Boost World Economic Recovery
Strengthen Coordination on Macroeconomic Policies
BRICS should strengthen coordination on macroeconomic policies and multilateral cooperation, and urge major economies to adopt responsible fiscal and monetary policies, so as to avoid negative spillovers on developing countries and uphold sound operation of the international economic and financial system.
Foster an Open World Economy
BRICS should oppose unilateralism and protectionism, uphold the position of the multilateral trading regime as the main channel for international rules-setting, promote trade and investment liberalization and facilitation, maintain security and stability of industrial and supply chains, promote the orderly flow of resources and factors of production and push for an economic globalization that is more open, inclusive, balanced and beneficial for all.
Tap the Potentials for Innovation-driven Growth
BRICS should urge the international community to draw up rules based on extensive participation and broad-based consensus, foster an open, fair, just and non-discriminatory environment for innovation-driven development, and uphold shared interests and development space of EMDCs. We should seize the new development opportunities for digital economy, dovetail industrial policies, share experiences on reform and innovation, jointly promote deeper integration of digital technologies with the real economy, foster new industries, new forms, new models of business, and render each other support in accelerating the shift in growth drivers and economic transformation and upgrading.
Advance Efficient and Practical Cooperation
Trade Cooperation
It is important to give full play to the role of Trade Ministers' Meeting and CGETI Meeting with a view to better implementing the Strategy for BRICS Economic Partnership 2025 and deepening cooperation in digital economy, e-commerce, trade in services and MSMEs for connectivity of industrial and supply chains and a higher-level development of intra-BRICS trade and investment.
Financial and Monetary Cooperation
With New Development Bank's relocation to its permanent headquarters, BRICS countries should encourage NDB to continue its business operations in a steady way, expand its membership gradually and provide financial and intellectual support for member states. BRICS should attach importance to infrastructure, enhance experience exchange and knowledge sharing and encourage the participation of private sectors to boost high-quality development. BRICS should also strengthen the Contingent Reserve Arrangement(CRA)mechanism with the amendment of its Treaty and other document, and a new test run to enhance its operability. It is important for BRICS to promote the development of bond markets by establishing the BRICS Local Currency Bond Fund to enhance capabilities in responding to financial risks.
Industry
BRICS countries should advance Partnership on New Industrial Revolution (PartNIR) at a faster pace, promote PartNIR Innovation Center in Xiamen and BRICS Institution of Future Network, work together to set up a Center for Industrial Competences and explore prospects for start-up cooperation. China will host the Forum on the Development of Industrial Internet and Digital Manufacturing, an industrial innovation contest, forum on future network innovation and forum on digital BRICS to deepen cooperation in artificial intelligence, big data, block chain, industrial internet, industrial and supply chains as well as in green and low-carbon area.
Science and Technology
BRICS countries should implement the BRICS Action Plan on Innovation Cooperation for 2021-2024, build the Network of BRICS Technology Transfer Centers as soon as possible and encourage iBRICS Network to play a bigger role. It is also important for BRICS countries to carry out activities such as BRICS STI Joint Call on research projects and BRICS Young Scientists Forum and strengthen cooperation in flagship programs.
Education
BRICS countries should make full use of the BRICS Universities League and the BRICS Network University, promote exchanges and interactions between students and scholars and jointly cultivate high-level talents. It is important to establish a BRICS alliance for vocational education and hold vocational skills competitions to build a platform of cooperation between vocational education institutes and enterprises.
Anti-corruption
BRICS countries should cooperate in such areas as asset recovery, denial of safe havens for corrupt persons and identification of proceeds of corruption and enhance anti-corruption capacity building through various education and training programs.
Customs Cooperation
BRICS countries should further cooperation in joint enforcement, capacity building and administrative mutual assistance and conclude the BRICS Agreement on Cooperation and Mutual Administrative Assistance in Customs Matters at an early date.
In addition, we should leverage a variety of mechanisms including ministerial meetings in areas of labour and employment, disaster management, energy, youth, competition, and standardization, as well as the meeting of heads of tax authorities and the meeting of heads of intellectual property offices to deepen cooperation across the board for tangible outcomes.
Expedite Implementation of the 2030 Agenda for Sustainable Development
Stay Committed to Development as a Priority
BRICS countries should put development front and centre on the global macro policy coordination, commit to the people-centered philosophy and start with solving the most pressing problems faced by developing countries to accelerate the implementation of 2030 Agenda. China will host the BRICS Forum on Big Data for Sustainable Development, which aims to strengthen exchanges and cooperation among our five countries on big data-informed policy making and implementation of the 2030 Agenda.
Support the United Nations in Playing an Overall Coordinating Role
BRICS countries should support the UN development system, specialized agencies, funds and programs in tapping their own advantages and increasing development resources to advance the international development cooperation. The UN High-Level Political Forum on Sustainable Development should play a key role in the follow-up and review of the 2030 Agenda, and support should be given to regular reviews of global implementation progress on sustainable development.
Deepen Global Development Partnership
BRICS countries should work towards a more equitable and balanced global development partnership for development with the North-South cooperation as the main channel. Developed countries should honor their Official Development Assistance(ODA)commitments on time and in full, scale up their support in terms of finance, technology and capacity building for developing countries, especially African countries, the least developed countries, small-island developing states and landlocked developing countries. Meanwhile, BRICS need to promote South-South cooperation to boost unity and prosperity of developing countries.
Promote Poverty Alleviation and Food Security
BRICS countries need to prioritize poverty alleviation in implementing the 2030 Agenda for Sustainable Development with a focus on prevention of relapses into poverty due to the pandemic, especially in developing countries. BRICS countries should foster pragmatic cooperation in food security, improve capacity in ensuring the supply of food and other key agricultural produce through enhanced Agriculture Information Exchange System. BRICS countries should seek further cooperation in such areas as agricultural trade and investment, agricultural carbon sequestration, digital agriculture and conservation of argo-biodiversity. In line with the BRICS Agriculture Action Plan for 2021-2024, China proposes to hold a seminar on BRICS rural development and poverty alleviation, explore setting up a rural development working group and signing the memorandum of understanding on cooperation in the field of food security to help achieve the goal of poverty alleviation and zero hunger.
Strengthen Global Climate and Environment Governance
BRICS countries need to work with the international community to stay committed to the full and effective implementation of the United Nations Framework Convention on Climate Change and Paris Agreement based on the principle of equity, Common But Differentiated Responsibilities and respective capabilities and according to the arrangement of Nationally Determined Contributions. China will host the BRICS High-level Meeting on Climate Change and the Environment Ministers Meeting to strengthen communication and coordination within BRICS countries, share expertise and technology for green and low-carbon transition. BRICS countries should put in place a BRICS space cooperation mechanism and release the application results of BRICS remote sensing satellite constellation as soon as possible to make contributions to BRICS countries' response to climate change, natural disasters and environmental pollution.
Strengthen People-To-People Exchanges 
BRICS countries should make full use of mechanisms including the internet for cultural and people-to-people exchanges and cooperation, carry out colorful activities in such fields as film, media and governance, and promote exchanges and interactions between political parties, think tanks and civil society organizations. The Seminar on Governance, Forum on People-to-People and Cultural Exchanges will be held in due course and active support should be given to the alliance for green tourism. BRICS should leverage the BRICS Business Council, the BRICS Women Business Alliance and BRICS Business Forum to redouble efforts in strengthening business ties and promoting practical and fruitful relations amongst BRICS countries.
Make Institutional Improvements 
BRICS cooperation needs to embrace changes and keep abreast with the times. We need to set clearer priorities in our wide-ranging cooperation, make our cooperation more results-oriented and ensure that its benefits are fully delivered. We need to adjust and improve the substance and modality of our cooperation on the basis of consensus to respond to the evolving circumstances and practical needs. Besides, we should reach out to more countries and international organizations through 'BRICS Plus' cooperation to keep broadening the BRICS 'circle of friends'.