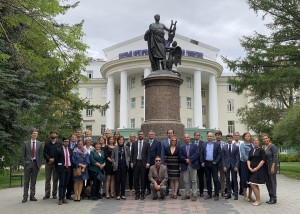 On September 10, 2019 the 24th meeting of the Russian-German working group on cooperation in marine and polar research chaired by the Ministry of science and higher education of Russia (MSHE) and the German Federal Ministry of education and research (BMBF) was held in Arkhangelsk. More than 30 experts from Russia and Germany participated in the meeting, including Anastasia Zadorina, deputy Executive Director for International S&T Cooperation.
The working group operates within the framework of the bilateral interdepartmental agreement on marine and polar scientific research, signed in 1995. Following the meeting, the decision on launching the update of the agreement on marine and polar research was made. Russian and German scientific and educational communities of Russia and Germany will be involved.
During the meeting, the MSHE and the BMBF exchanged opinions and discussed prospects for the development of mechanisms to support scientific and technical cooperation, including joint calls. The participants of the meeting got acquainted with the projects that had been supported within the joint call on scientific projects in the field of marine and polar research and made the decision on organizing the next joint call in 2020. Following the meeting, the chairmen of the working group I. V. Kovda (MSHE) and N.Overbeck (BMBF) signed a joint Protocol.
The meeting was held at the site of the Northern (Arctic) Federal University named after M. V. Lomonosov. The next 25th meeting of the working group will be held in Germany in 2020.