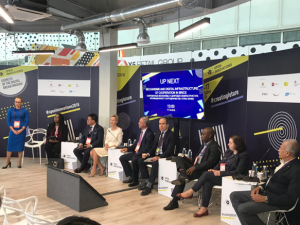 The annual Open Innovations forum was held in Moscow on October 15-17, 2018. It was held under the aegis of the Government of the Russian Federation and is rightfully considered to be a unique discussion platform for participants in the formation of an innovative ecosystem.
The forum's main goal is the development and commercialization of new technologies, the popularization of world technology brands and the creation of new tools for international cooperation in the field of innovation. The program includes plenary sessions and themed sessions, an exhibition, educational events, seminars and master classes, innovative shows, business meetings and, of course, informal networking.
Irina Kuklina, an Executive director of the International Centre for Innovation in Science, Technology and Education, participated in panel discussion «Mechanisms and Digital Infrastructure of Cooperation in BRICS», which was held on October, 17.
This panel discussion was devoted to a new innovation platform which is currently emerging among the BRICS countries. It carries global potential and brings new opportunities for small and medium-sized innovative enterprises of these countries. At the same time, one of the main obstacles to the innovative development of the BRICS countries is the low demand for innovation on the part of business.
Among main issues of the panel discussion were the existing measures to support innovation in the BRICS countries (including private and public sector); effective initiatives in this area; joint mechanisms of the innovation cooperation between BRICS countries: from commercialization to the industrialization of innovations; the BRICS countries' most promising industries and/or sectors for joint innovation cooperation; the most relevant directions for the mutual transfer of innovative technologies and etc.